Xtend-Life has been creating high-quality skincare products since 1998, and has a long line of solutions ranging from antiaging to anti-acne and skin whitening creams. One of their latest products is the restorative night formula, which utilizes their patented cell rejuvenation technology and is packed with natural oils that are extremely effective at penetrating deep into the skin, nourishing it throughout the night as you sleep. This formula was specifically designed to be used in combination with the Age Defense Active Day Cream, and therefore has similar ingredients, with some crucial additions. Studies have shown that the majority of cell regeneration and healing occurs while we sleep, so it is not surprising that the Restorative Night Cream plays such a crucial role in the skin rejuvenation process.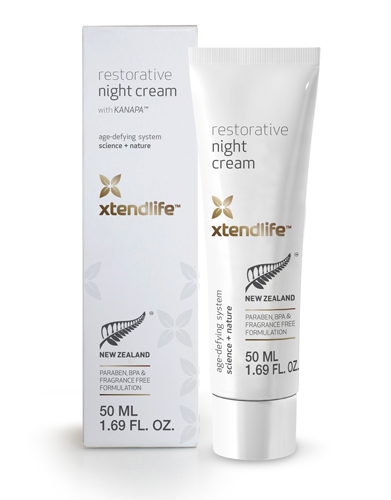 The Main Active Ingredients in Xtend-Life Restorative Night Cream
Xtend-Life Restorative Night Cream repairs and restores wrinkled, sagging, and dull skin by adressing the main causes of skin cell degeneration and aging. Some of the main active ingredients included in the product are New Zealand Manuka honey, avocado extract, Shea butter, unique emollients, Phytessence Wakame, Coenzyme Q10, and the patented breakthrough ingredient Xtend-TK, which has been shown to increase skin cell proliferation by up to 160%. These products serve to perform three functions – stimulate elastin and collagen regrowth, boost hyaluronic acid, and destroy and neutralize free radicals. By stimulating the growth of collagen and elastin the product restores the firmness and shine that is associated with youthful skin.
What Can the Restorative Night Cream Do for You?
The Xtend-Life Restorative Night Cream corrects the error that hyaluronic acid and collagen can be reintroduced to the body in oral or supplemental form. Instead, these substances must be reproduced by biological functions, and the ingredients within the Restorative Night Cream encourage the body to do this. Regardless of your skin type or sensitivities, Xtend Life Restorative Night Cream can improve the quality of your skin, and penetrate and nourish all seven layers of it without causing irritation. In essence, the cream boosts the pre-existing functions of your body to a youthful level, thereby resulting in a softer more moisturized feel, and revitalized appearance. The XtendLife Restorative Night Cream not only helps rejuvenate older looking skin, it can also aid in eliminating irritating skin conditions like Rosacea. In fact, unlike other skincare products the Restorative Night Cream has actually been shown to aid in the healing process for broken or irritated skin.
How Long Will It Take to See Results?
Clinical trials show that test subjects that utilize the Xtend-Life product line noticed a significant difference in the quality of their skin within just a couple of weeks. However, it should be noted that the overall condition of the skin when starting treatment will determine how long it will take to see noticeable results. Someone with minor bags and wrinkles around the eyes may be able to notice a significant difference in a couple weeks, while someone with extensive skin damage may need to use the product for several months before a dramatic transformation can be seen. It should also be noted that the amount of time it takes to see results can be reduced by using the complete Xtend-Life product line in conjunction. In fact, Xtend-Life as specifically designed their products to work in synergy with one another, so the fastest results can only be obtained when the complete system is utilized.
Use Xtend-Life Restorative Night Cream to see noticeable results in as little as two weeks!
Click Here For A Highly Effective Natural Treatment Option For Sagging Skin.